New student testing interface
Richmond, VA (January, 2017)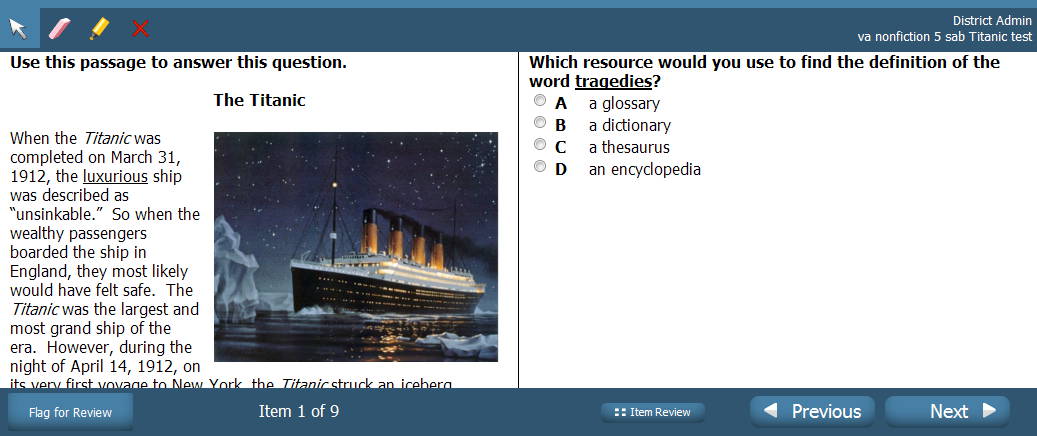 We have a new default TestNav™-like online testing format. This new format runs without requiring the Flash plugin, and supports TestNav features including side-by-side passage and item panes. Without needing Flash, it is faster and more stable than previous formats.
New and Improved Test Editing
Richmond, VA (October, 2015)

We recently released our new and improved Test Editor. It now has a more compact design to allow easier and more fluid editing of the stem and distractors of questions. The Test Edit also now has live-updating preview text for item stems and passages and each and every passage can be individually previewed "as seen by studenti".
Item Reorderer
Richmond, VA (August, 2015)

Now you can easily reorder your test items in ROSworks using our simple drag and drop item reorder interface. Once you build your test (whether importing, using the assembler, or test editing) you just click on the "Reorder Items" tab to get started. Then simply click on the item you want to move and drag it to the location you want it moved to. It's really as easy as that!
New VA DOE Released Tests Available in ROS
Richmond, VA (March, 2015)
All of the newly released Virginia Department of Education Released SOL Tests are now available in ROSworks.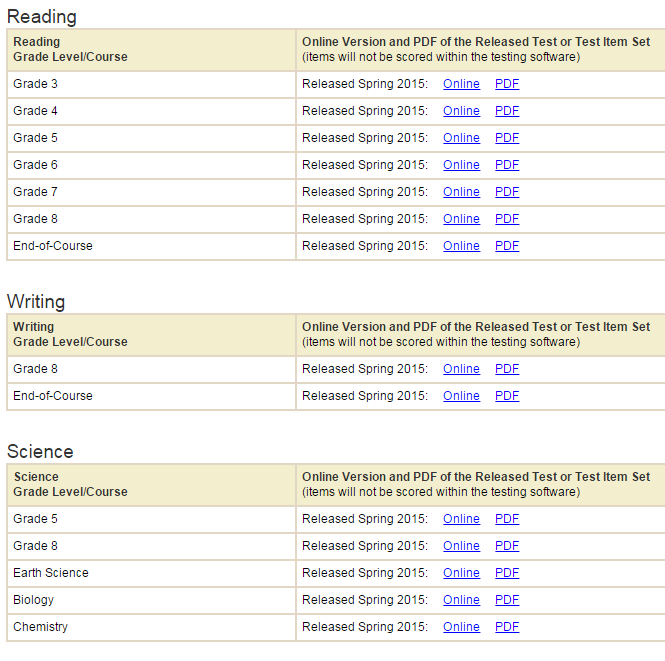 We offer two versions of the tests — one with fully functional technology enhanced item types and the other as a static paper and printer ready test. As the VDOE releases new tests in the future we will be sure to add them to our library.
Updated Reports Interface
Richmond, VA (December, 2014)

ROSworks' new report interface is designed to fit your custom reporting needs. Now when you go to fetch your data you will find any report templates you have saved readily accessible from the main reports page. This ensures that if there are reports you run on a daily, weekly, monthly or even semi-annual basis, their format will be saved and ready to go for any future tests you run reports for.
Homework and Assignment Options
Richmond, VA (March, 2014)
Have you ever wanted to assign work over Winter Vacation, Spring Break or even just as homework? ROS can now not only be your benchmarking, formative, summative and diagnostic testing solution—but we can also be your homework provider too!
ROS now offers you the option to make assignments homework-ready by allowing for students to have multiple log-ins and attempts at questions when working on their coursework. This means that they can continue to attempt problems until they are satisfied and confident in their results.
In order to enable this option for your students, navigate to the Test Info page for your assignment, click on the "Edit Security Options" button, and make sure you choose "Multiple sessions, useful for homework". And voila, homework assigned!
Enabling Online Testing Tools
Richmond, VA (February, 2014)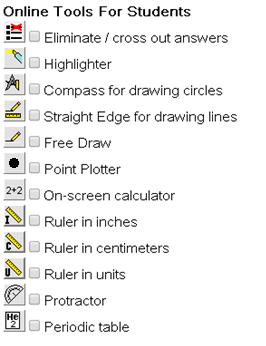 When preparing students for the State's end of year exams, it is vital to their success that they be adequately equipped with the tools necessary to succeed!
Not only does our online testing environment visually simulate that which students will see on their end of year tests, but we also offer them the same feel and functionality. ROS makes sure students have the opportunity to utilize tools on their assessments such as the Eliminator, Highlighter, Compass, Straight Edge, Rulers, Calculator, Periodic Table and more.
Make sure when you are administering assessments in ROS that you remember to turn these tools on for your students. You can do so by navigating to the Test Info page and clicking on the "Edit Online Tools Options" button. Keep in mind, not all tools are useful on all tests, grades and subject areas — so make sure to pick and choose accordingly!
Technology Enhanced Item Types
Richmond, VA (September, 2013)
Reports Online System has Technologically Enhanced Item (TEI) types now available. We currently have nearly 6,000 TEI items available for use in four subject areas.
ROS' Technology Enhanced Items give users access to a variety of the following item types:
Drag and Drop - Sequencing
Drag and Drop - Word Bank
Matching via Drag interface
In-Line Drop Down Menu Multiple Choice Text
In-Line Multiple Fill in the Blank
Hot Spot
Multiple Response
Fill in the Blank - Numeric Range
Fill in the Blank - Word Match
Enhanced Unlimited Item Multiple Choice (no distractor limit)
True/False
The TEI items are available through your ROS Library section and the Test Assembler, to be added to tests and used in ROS like all other test content. Your ROS Library is available through the "Library" tab at the top right of every page, where you'll find the TEI items in the section "TEI Items - Virginia". The items can also be viewed and added to tests individually through the Test Assembler, as you would add any other item from the Tests for Higher Standards banks or the State Released Tests bank. The Test Assembler is available from the Test Info page of the test you would like to add TEIs to, by clicking the "gear" button (

) at the bottom of the Test Info Table then selecting "Assembler".
We invite you to view our TEI Showcase Video which highlights some examples of our TEIs and their functionality within ROS. Although not all possible examples of TEIs are shown, it does give a good representative sample of what our content creators are doing.
If you have any questions regarding our TEI items please do not hesitate to call or email. Keep in mind that you are able to access these items and experiment with them in your own accounts now. Please feel free to try them out and get acquainted with them.
ROSworks Offers Equation Editor
Richmond, VA (August, 2013)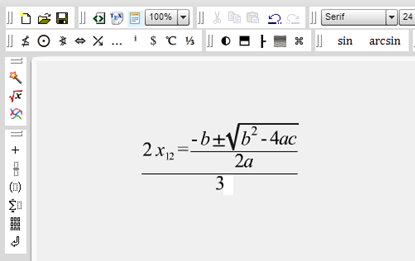 Have you ever tried editing a mathematical equation without an equation editor? Frustrating, right? Well, say hello to our new Equation Editor! As pictured below, you will see that our new Equation Editor allows for the creation, editing, and display of all types of mathematical functions and equations right in your own tests!
You can access the Equation Editor by navigating to Test Edit and clicking on the Sigma symbol on the far right side of the tool bar, labeled "Add MathML Formula". From there you will find you have the ability to pick from symbols and functions used in algebra, geometry, calculus, trigonometry and more. You can add fractions (in many formats), square roots, formulas, trigonometric functions, angles, and many geometric shapes.
We encourage you to experiment with the Equation Editor and find out more about what it can do!